Curriculum Overview
St. Patrick's School Pepeha
Ko Rangitumau te maunga
Ko te Ruamahanga te awa
Ko te ngakau tapu o Hehu te whare
Ko Hato Patariki te kura
Ko Hato Patariki te whanau
Ko Hato Patariki te tangata
St Patrick's School is an Integrated Primary School for girls and boys from New Entrants to Year 6, offering education with a special Catholic character. The Brigidine Sisters founded the original school over one hundred years ago and taught in the school until 1995. A close relationship exists between the school, St Patrick's church community and the Catholic Parish of the Wairarapa. Our school is situated within the town of Masterton and the makeup of our students reflect the diversity of a family, friendly, rural town community.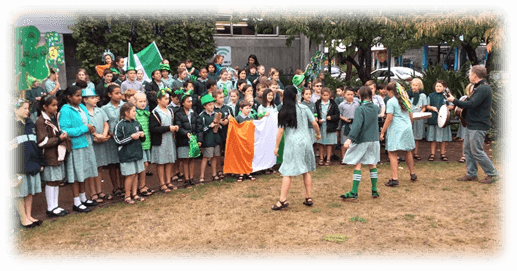 St. Patrick's School Mission Statement
'Preparing for the future in a Catholic Environment'
Our aim is to prepare students at St Patrick's school to be Catholic citizens who can participate and contribute to our ever changing world. The future will require them to be lifelong learners, to be creative and complex problem solvers, have strong interpersonal skills, work with diverse teams of people and to be able to synthesise and create information.
We want to provide an education that children can engage in and connect with personally, that connects with their learning, as well as with their own personal language, culture and identity.
Special Catholic Character
The Catholic Character of St Patrick's School is something that makes our school special.  Students develop and build on their spirituality throughout their time at St Patrick's School. During their spiritual journey with us, we want them to foster the development of our school and Gospel values and learn to be loving and non-judgemental Christians. In doing this they are encouraged to be responsible for being stewards of the church, school community and planet Earth.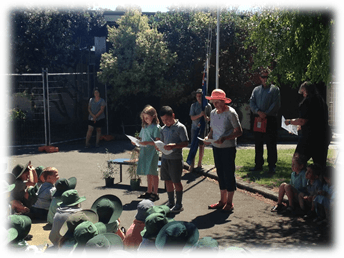 School Curriculum
Our school curriculum prepares students at St Patrick's School to be Catholic citizens who can participate and contribute to our ever changing world through the teaching of the New Zealand curriculum that is underpinned by our philosophy of learning:
At St Patrick's School, we want to empower our students to live the Catholic faith through all learning. We believe that student well-being is paramount and developed in an environment that is driven by the Gospel virtues and learner qualities that nurture and develop the whole student.We see the importance of positive relationships and the upholding of our school values of Strength, Kindness and Excellence in everything that we do.We treasure an environment where students have the opportunity to be agentic in their learning. We endeavour to provide our students with authentic learning experiences where they make connections to their lives through the spiritual, cultural, digital and environmental worlds.
Termly Overviews/ Themes
Over a two year cycle, each school term has a theme based upon a principle of Catholic Social Teaching, which is based on the belief that God has a plan for creation, a plan to build his kingdom. Our part in this plan involves every aspect of our lives, from the things we pray about, to how we live as a responsible global citizens.
Human Dignity – I am beautifully made in the image and likeness of God
Participation – We all have a responsibility to learn from the past to shape our present & future
Solidarity – We are all one human family, loving each other as we walk together 
Stewardship – I am a kaitiaki of God's creation, caring for people and our planet
Rights & Responsibilities – Everyone has the right for a good life and this must be protected
Promotion of Peace – We are called to be peacemakers as we live together in our world
 Preferential option for the poor & vulnerable – The needs of the poor and vulnerable take priority over the desires of the rich
Common Good -We are called to work for the good of everyone in the world 
Student Learner Qualities
We want our students to be engaged in what they are learning and empowered to learn how to lead their own learning. To do this they need to be encouraged to develop qualities which will put them in a position to be able to best achieve this. These learner qualities include: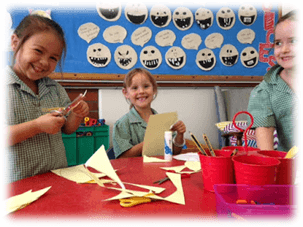 Excellent Learners give 100% in their work
I am determined. I always try my best, am resilient and stick at things until I am finished. Even when I am in my learning pit I have the skills to figure a way out.
Excellent Learners are risk takers
I try new things.  I know that it is okay to make mistakes.  I am not frightened by new learning.
Excellent Learners make connections
I use different bits of knowledge, from different places to make new understanding.
Excellent Learners reflect
I think back on my learning, share evidence and know my weaknesses and strengths. I reflect on my attitudes and beliefs. I encourage others to be reflective too.
Excellent Learners are creative thinkers
I am curious.  I use my imagination in my work and challenge others to "think outside the box".
Excellent Learners are Collaborative
I work well with others. I listen carefully, take in what others say, reflect and add my own thoughts.  I am willing to share my strengths, abilities and knowledge.  I understand that if I work with others I am better than on my own.
Excellent Learners are Self Managers
I come each day ready to learn.  I stay on task and use my time wisely. I know what I can and cannot do and know my next steps.
Excellent Learners are Curious
I know that learning about our world means being curious and asking questions.
Core Concepts
These are concepts that are important to our school and that we believe are essential for children to develop and grow their understanding of to help them participate and contribute to our ever changing world:
Enviro Education for Sustainability
we believe that as a Catholic Enviro School students should be aware that we are called to take up the commitment of responsibility to creation and the duty towards nature and the Creator, as an essential part of their faith.
we believe that students should be empowered to be part of a healthy, peaceful and sustainable community where inter-generations of people work with and learn from nature.
Digital Citizenship
we believe students need to understand the importance of being a digital citizen. This combines the confident use of:

skills and strategies to access technology to communicate, connect, collaborate, and create
attitudes, underpinned by values that support integrity & positive connection with others
understanding and knowledge of the digital environments and contexts in which they are working, and how they integrate on/offline spaces

we believe students need to have the ability to draw on the competency of digital citizenship to participate safely online in the world of the future
Cultural Responsiveness
we believe students should be part of a culturally responsive school environment in which their cultural beliefs and practices are understood, to help them succeed to the best of their abilities.
as a school that upholds the principles and values of the Treaty of Waitangi we believe it is important for students to celebrate, learn and accept a diverse range of cultures.